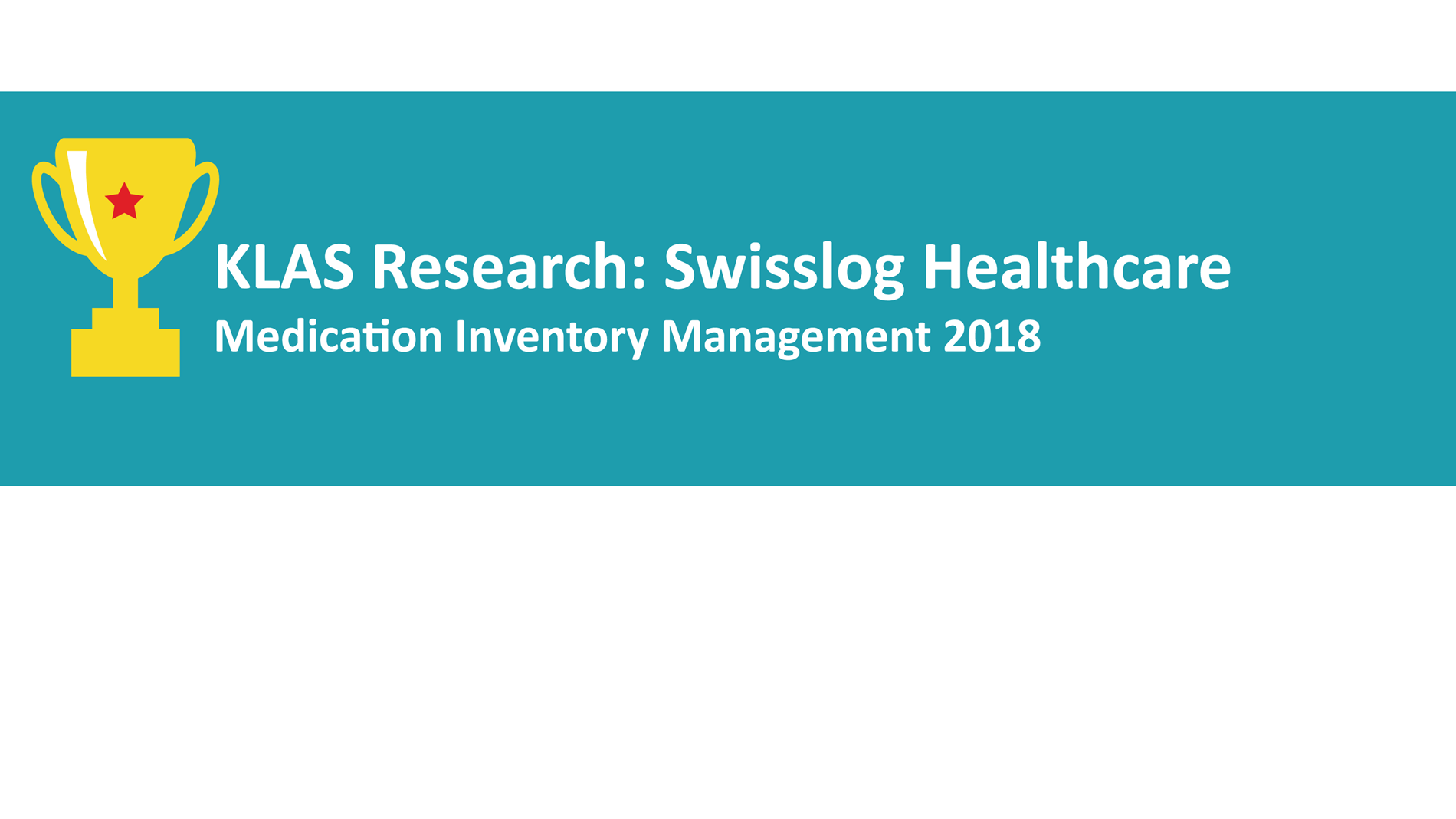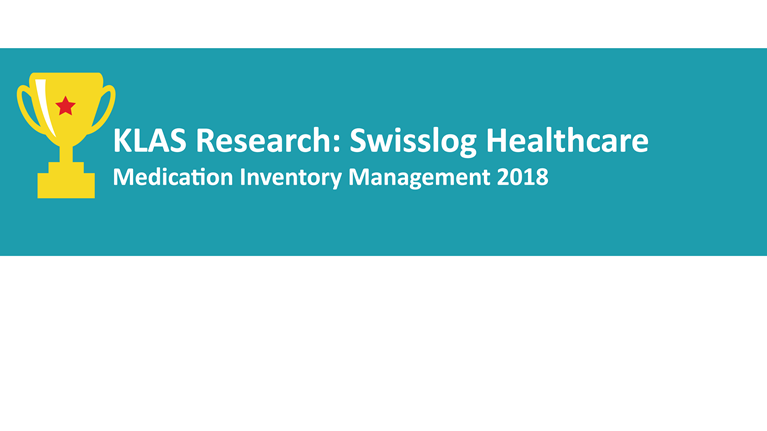 Swisslog Healthcare Earns Top Honors in the New KLAS Report
AutoPharm®, Swisslog Healthcare's Medication Inventory Management Software, Receives Highest Overall Score in New KLAS Report
June 19, 2018
Swisslog Healthcare earned top honors for overall performance in the new KLAS report: Medication Inventory Management 2018.
The organization's medication management software application, AutoPharm, earned an overall score of 83, the highest score amongst vendors. The score was based on its combined performance in the areas of sales, implementation and training, product functionality, service and support.

Of 20 key performance indicators, AutoPharm was the leader in five areas where full data is available. Additionally, AutoPharm was above the industry average in all areas for which there is data.

"We are honored by this recognition," said Swisslog Healthcare CEO Stephan Sonderegger. "At Swisslog Healthcare, we wake up every day thinking about the central pharmacy and how we can enhance efficiency, reduce costs and increase patient safety."

The KLAS report rated vendors on their perpetual medication inventory management solutions, which entail a software and analytics platform that tracks medication storage, processing, inventory and control. These applications work with central pharmacy automation equipment such as robots, carousels and unit-dose packagers and hold the promise of reducing waste, trimming excess inventory and improving pharmacy workflows.

Directors of pharmacy and pharmacy managers seek distinct capabilities from their medication inventory management software, according to the report. These are:
Accurate inventory tracking, a foundational capability on which all others rest;

Interoperability across diverse systems, which allows organizations to see and gather counts from locations throughout a facility and from multiple locations;

Workflow management, a function that supports prioritizing fills, balancing workloads, restocking and allocating medications across sites; and

Actionable reports, through the use of advanced analytics and with the goal of optimizing inventory levels and driving operational efficiencies.
Swisslog Healthcare's ADC-agnostic software was at the top of the market for workflow management, KLAS research found. "Swisslog Healthcare customers point to strong workflows, helping them to be more efficient by helping technicians with daily tasks, such as filling medication orders," the report said.

The ability of AutoPharm to integrate with other vendors' equipment also was highlighted. Said one customer, "We have always been able to get AutoPharm to talk to other systems. It sometimes takes a little bit to get the systems to work so that the data comes out clean, but at least we have that working. I have never asked (Swisslog Healthcare) to integrate AutoPharm with another system that it couldn't be integrated with. I can't think of any other systems we want that we have not already integrated with AutoPharm."

Swisslog Healthcare led the market for keeping promises to customers. "Customers report the vendor is very good about following up," the report stated, "and keeping their promises as customers reach out to them with questions."

About AutoPharm and KLAS

AutoPharm, acquired by Swisslog Healthcare in 2017, is a powerful pharmacy management software application that integrates with a health system's current investments in pharmacy and information systems. This enterprise-wide software manages medication inventory across an entire health system, providing greater inventory control while streamlining workflows.

KLAS is an independent health informatics company whose research and reports help providers make informed decisions about technology. This report, the first in a series, attempts to identify market leaders for various aspects of medication inventory management. For this report, KLAS interviewed healthcare professionals at 71 provider organizations.

"Our continuing commitment to innovation from the pharmacy core guides our software development, analytics and cloud services, solution design and support services," said Swisslog Healthcare's Sonderegger. "We are gratified by the industry's response to our focus, confirming that our medication management solutions are truly best-in-class."

Detailed findings about Swisslog Healthcare:
Keeps all promises: Scored 88%, the highest of all vendors. "We are confident in Talyst's road map for future developments in inventory management," wrote one pharmacy manager. "Based on what we have seen of their software, they will keep moving forward."

Drives tangible outcomes: Scored 7.8* on a 9-point scale, well above the average, although with limited data. "The system does daily fills, and that has significantly reduced the amount of work we have to do. I am very impressed with how this process works," wrote one provider.

Quality of phone/web support, executive involvement and proactive service: Scored 7.0 on a 9-point scale, the best in the field.

Money's worth: Scored 7.8* out of 9, albeit with limited data, and far above the industry average.

Forecasted overall satisfaction: Scored 7.9 out of 9, far above average.
*Limited data scores – less than 15 unique respondents.
"We are honored to have received such KLAS recognition in this inaugural report," said Sonderegger. "Knowing our users have expressed such confidence in Swisslog Healthcare motivates us to continue to work hard to promote safety and efficiency in medication management, facilitating efficiency in healthcare delivery worldwide."