How unit dose medication improves clinical workflows
Every person is different and so are symptoms and disease patterns. Different forms of therapy, tailored to the individual needs of each patient, are required. Drug administration itself is already a high-risk process. Besides that, medical staff in hospitals faces enormous time pressure. Nonetheless, in the end the only thing that matters is that the right medication reaches the right patient at the right time. Therefore, implementing the concept of unit dose medication supports hospitals in reducing medication errors and saves time for patient care.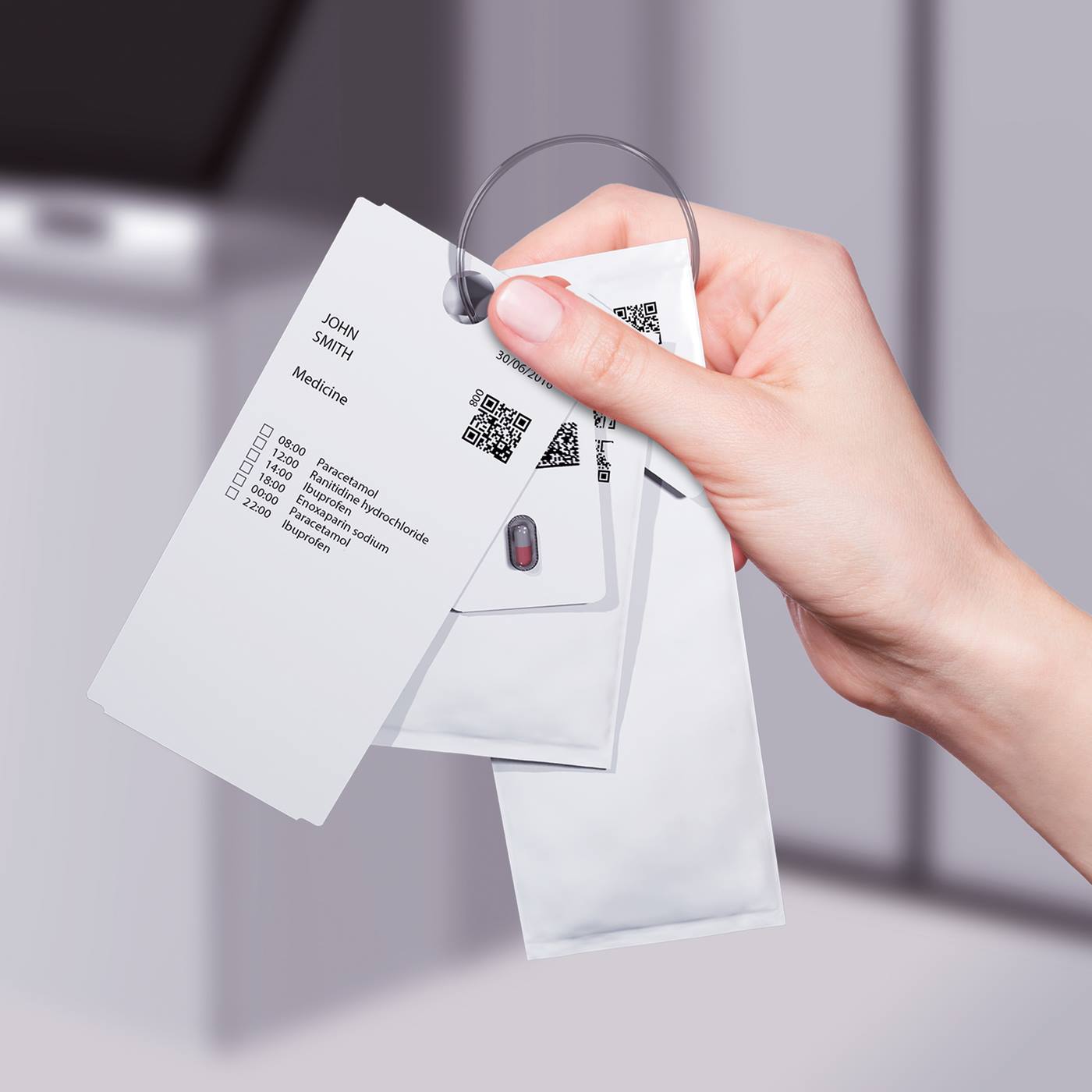 Drug therapies in hospitals can either be provided in the form of unit or multi doses.
A Multi Dose can contain several tablets of one type or a mix of different pills. The latter is used for patient-specific therapy. The different drugs are repackaged in a small bag – the pouch package. It is often successfully implemented in community pharmacies, where scheduled long-term medication is a key task. Customers can easily pick up their individual prescription. In the hospital environment, this kind of patient-specific therapy should be avoided since Multi Doses do not follow the 5 rights of medication and can therefore lead to critical situations.
The 5R rule is a widespread and highly accepted rule in the healthcare industry to avoid medication errors:
The right patient
The right drug
The right dose
The right route of administration
The right time
Unit doses in hospitals adhere to the 5R rule and increase patient safety.
A Unit Dose, or also called Single Dose, is a medication that is individually packed: A fully automated packaging and dispensing system puts one single drug into a bag or a small cardboard box. This form of packaging allows patient-specific or patient-independent treatment. Unit Doses are best used for blister- or bulk-packed drugs. However, most other forms of medication such as suppositories, ampoules, transdermal patches, or pre-filled syringes can also be packed into unit doses. Once a unit dose medication has been created it can be ordered from the ward.
One major advantage of unit doses is that blister packed drugs are not retrieved from the original package until it reaches the patient. This also means that no cross-contamination with other medication and human touches take place.
Patient-specific therapy that includes more than one medication can also be created with unit doses. The drugs reach the nursing stations as patient-specific therapy rings. The amount of time that nursing staff usually spends on manually storing, sorting, and dispensing medication is significantly reduced thanks to this workflow. Moreover, safety in the handling of high-risk medication is improved by the clear labeling of drug, dosage, batch, and expiration date. Barcode technology and scanning processes can also have a positive impact on the identification of medications.
The ring of the unit dose therapy consists of a bundle of individual unit dose packages; A separate patient card with the patient's name and his prescription is also added to the ring. All drugs that have not been taken by patients on the wards can thus easily be returned to the storage system as the unit dose packages have not been opened and do not hold any sensitive patient data – unlike the pouch package.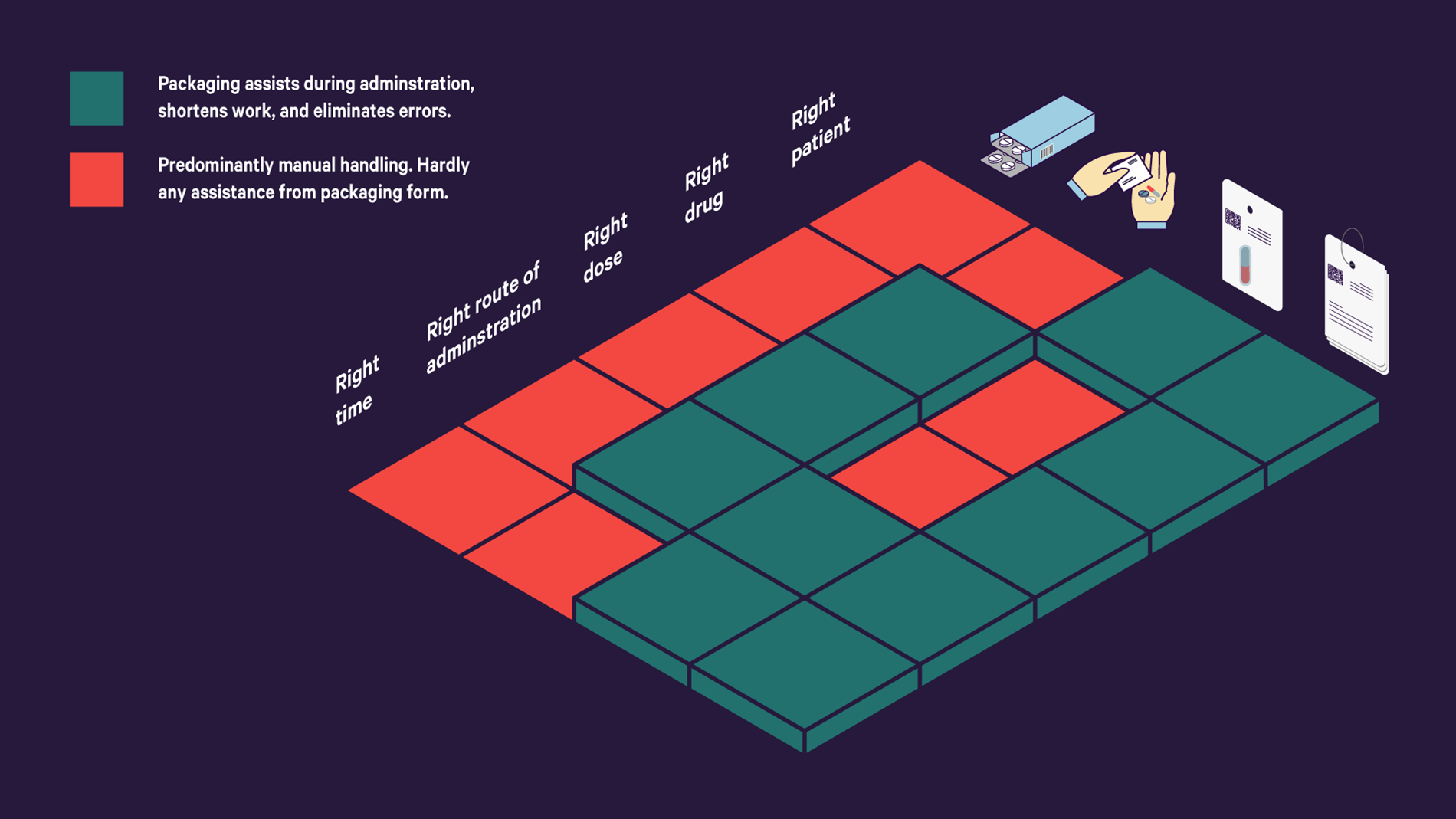 To enable medical staff to work with unit doses on the wards, a centralized medication storage with a pharmacy automation solution is necessary. It replaces the manual steps of therapy preparation on the ward with a fully automated and quality-assured production process in the hospital pharmacy. By centralizing the storage of medications and the preparation of therapies within the central pharmacy, nurses are freed from repetitive tasks and can devote more time to patient-related activities. Picking errors that occur during manual therapy preparation are also eliminated. Therapies can be created at any time, i.e. scheduled or spontaneous. Unit dose medication and the therapy ring can even be created simultaneously.
Worldwide, approximately 160 of our patient-specific unit dose systems are currently in use in hospitals. Once a hospital has decided to implement the system, previous processes and workflows also need to be changed. Even if restructuring requires a lot of time and effort, it ensures patient safety in the long term.
An automated unit doses system, is capable of packaging almost all forms of medication in single doses. Would you also like to increase patient safety and optimize the flow of medication from clinical staff to patients?
Contact us and learn more about unit dose solutions.