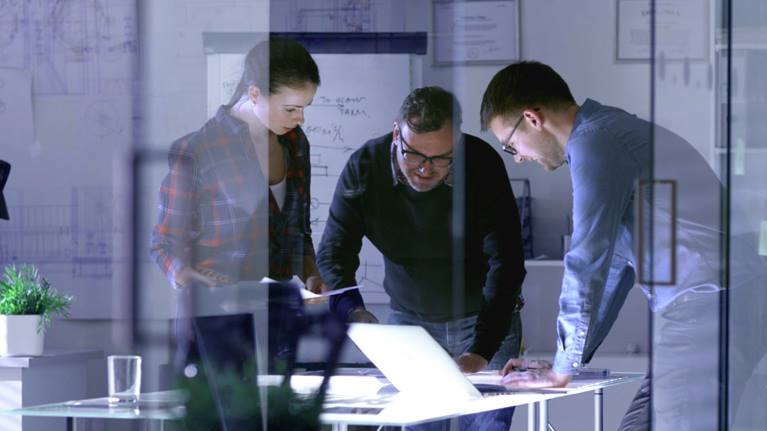 Documentation Manager - Westminster, CO
Location: Westminster, CO
June 15, 2021
The Documentation Manager will lead a team of technical writers and instructional designers to produce high-quality documentation and training deliverables for software applications products.
Short Facts
Westminster, CO, USA

Software

Regular/ Permanent/ Full-time
Your collaboration
Own the vision and strategy for the documentation and training function.
Research, organize, author, edit, maintain, and publish customer-facing documentation as well as internal technical documentation.
Familiar with the ADDIE methodology for designing and authoring learning for customers and an internal technical audience.
Collaborate with internal teams to obtain an in-depth understanding of the product and the documentation requirements based on audience analysis, needs analysis, and task analysis.
Design and implement innovative approaches to an overall information architecture across the product portfolio.
Possess knowledge of documentation principles, commonly-used strategies for producing high-quality documentation, best practices, and procedures within the technical writing industry and community.
Manage a team of technical writers and instructional designers to plan, organize, design, author, and publish best-in-class product documentation and training content.
Manage the teams' annual goals and objectives and monitor progress.
Responsible for management of product documentation and technical training to deliver best-in-class documentation in accordance with software applications product release schedules and product roadmap.
Perform audience analysis and task analysis to ensure that the technical content meets the needs of the intended audience.
Work with other departments, such as, Project Realization, Customer Care, and Product Management, to ensure release readiness and that they have the content they need to be successful.
Plan and execute inter-departmental release readiness training and upskilling Realization and Customer Care personnel.
Understand software development requirements and build strong working relationships working collaboratively with Product Owners to ensure that all content developed is in accordance with product best practices, use cases, and presentation techniques and strategies.
Drive strategy to develop, author, and maintain technical content.
Collaborate with other content-producing teams to share knowledge and avoid duplication of efforts.
Review and edit content on a regular basis, provide feedback on progress with high regard for best practices and adopted style and standards.
Function as an individual contributor writing documentation and training, as needed.
Complete performance reviews and salary reviews for the team in accordance with Swisslog Healthcare's performance review process.
Understand and facilitate progress of team members toward career goals.
Coach team members on topic-based authoring and other industry standard approaches to developing content.
Coach team members on techniques for writing for translation.
Performs other duties, as assigned.
Your competence
10+ years of experience and ~ 3 years of experience leading an documentation and training team, and experience working with technical content within software development organizations.
Experience working as an individual contributor technical writer and/or instructional designer
Experience with industry-standard documentation tools
Experience with task-based topic authoring.
Experience leading people and teams to achieve goals and objectives under tight deadlines.
Knowledge and experience working as part of a scrum team
5-7 years' experience in technical writing or communications
Strong analytical and problems solving ability
Strong verbal and written communication
Desirable, but not Essential:
Experience with MadCap Flare, MadCap Central or other similar industry standard documentation authoring tools
Experience with training content development tools such as Rise, Camtasia, Captivate or other similar industry standard tools.
Compensation: $120,000 base, + bonus, medical/dental/vision insurance; tuition reimbursement, disability, 401k matching (up to 8%)
Clarity on your path
At Swisslog Healthcare, we are constantly looking for people who shape and develop our company. We offer exciting opportunities to learn, develop and lead change. You benefit from clear communication and development plans that are aligned with your personal strengths and our common goals. Enjoy many other benefits that we are constantly reviewing and expanding.
Diversity & Inclusion
Modern Work Environment
Latest Technology
Retirement Plans
Grow with Us!
Our commitment
We use automation to make a difference in hospitals and healthcare facilities. 1,200 dedicated employees in more than 3,500 facilities around the world are already relieving the burden on staff and giving them more time for patient care activities. With the latest technologies in the field of medication management, we are taking responsibility for shaping tomorrow's healthcare system to improve patient care and increase medication safety.
Equal Opportunity Employer
Swisslog Healthcare is an Equal Opportunity Employer, all qualified applicants will receive consideration for employment without regard to age, race, color, religion, sex, sexual orientation, gender identity, national origin, disability, veteran status, status as a protected veteran, or any other applicable status protected by federal, state or local law.
Swisslog's FMLA policy can be found at:
http://www.dol.gov/whd/regs/compliance/posters/fmlaen.pdf
Federal law requires employers to provide reasonable accommodation to qualified individuals with disabilities. If you require reasonable accommodation to complete the application or to perform your job, please contact Human Resources at
jobs.healthcare.us@swisslog.com
.